Posted by Mitch Mitchell on Feb 13, 2012
For those who have been with this blog for awhile, you know I'm a major league Harry Potter fan, both the books and the movies. One of the earliest posts on this blog was about the series of Harry Potter books, and last year I wrote a review here of the last movie Deathly Hallows Part 2. I'm not sure anyone has read, watched, and studied as much about this stuff as I have, other than J.K. Rowling herself.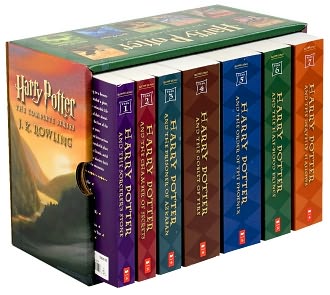 Harry Potter Book Series 1-7
I'm a bit strange sometimes. I write about blogging all the time, and often while doing or experiencing something else I wonder how it could relate to blogging or social media. Hey, those are the things on my mind, so I guess it figures. Therefore, I'm going to relate 5 blogging lessons I've gleaned from all this stuff concerning Harry Potter, whether it's in the books, movies, or elsewhere. Here we go.
1. Research can help bring more meaning into what you're doing. One of the things that I found fascinating about the Harry Potter books were the names. It seems that Ms. Rowling took a lot of time studying the etymology of names that she used for her characters. Almost all of the names used for characters in her books have meanings that fit their personalities in some fashion in the book. While most of us that try to write fiction might pull a name out of our heads that we like, hers had more meaning, and I bet there's a large audience that was pulled into her writing because of that.
When we blog about topics that we both know or might be on the fringe of our knowledge, a little bit of research can help us stay on point and protect us from making a major mistake. I do that often with my finance blog since I write on a lot of topics that I know something about, but not a lot about. That's why I'll sometimes link to a reference on all my blogs if I think someone might want to know more about the topic or the word. It never hurts to try to get it right.
2. Continuity makes people feel comfortable. In this case I'm talking about the cast of the Harry Potter movies. Over the course of 11 years making 8 movies from 7 books, they were able to retain 75% of the actors in the series, which is phenomenal. And not just major characters either, but many secondary or fringe characters both integral to the storyline or not. As I've watched the movies over and over I've noticed faces in the crowds that my mind recognizes from previous movies; fascinating stuff.
For blogging people call it "niche" writing, which isn't a bad thing to do when you're trying to reach a particular market. Of course this blog isn't niched, but what I hope I'm doing is writing in a fashion where, for the most part, people get comfortable with the overall style. Sure, I change it up from time to time but even the Harry Potter movies had to change Dumbledore's after the first two movies. 🙂
3. Each book and movie is as long as it needed to be. With each new Harry Potter book the number of pages got higher and higher. Each movie was at least 2 hours, and if you count the last two movies as one movie it reached 5 hours. Yet for all the movies there were things that had to be taken out to keep the movies, well, watchable. Whereas someone like me would have loved watching 6 hour movies each time, the masses would have felt like they were in history class and tuned out.
I see the topic of how long blog posts should be on many blogs. Sometimes a person makes a recommendation, while other times the person will say that it's up to each individual blogger. What the Harry Potter series shows us is that if you can get people engaged in what you have to say that it won't matter to them whether it's 300 words or 3,000 words. Create a compelling story and people will not only read it, they'll come back for more.
4. Sometimes being the lone voice is lonely, but you might be right. Many times throughout the series Harry Potter speculated on things that others just weren't ready to believe. Even his best friends sometimes couldn't see the truth the way he could. He didn't let that stop him, and invariably he'd end up being correct. However, even with his scrutiny he did get one thing wrong, really wrong, which was planned so he could eventually do the right thing to save lives, and he made up for it by giving his youngest son that man's middle name.
It takes guts to blog about something you feel you know is correct yet feel others might not agree with. Sometimes it's in the delivery, sometimes it's in the research (see #2 above), sometimes it's a gut feeling based on your perception of the information you have at the time. We all have to be willing to stick to our guns in our beliefs, while at the same time ready to acknowledge when your wrong because of a misperception or a belief in something that turns out not to be true, something I actually addressed in a post on my business blog last week.
5. When the chips are down, or the situation is important enough, if you've built up a community they'll come to your rescue or fight on your side. This is ultimately what happens in the Harry Potter
series. With overwhelming fear of being killed many students decided it was worth fighting the bad guys rather than allow known killers to rule their lives going forward. Others came as they could to help out, and a lot of people got killed. Yet in the end what had to be done was completed and everyone ended up better for it.
When you build a community through blogging they'll always be there to come to your aid if someone decides to challenge you in a very negative way. It's amazing the good feelings one can earn from people they've never met in person by being consistent, fair and friendly. Negative thoughts and feelings can be powerful and hard to overcome, but good feelings bring people together and always seem to win out eventually.
Whew; that was a lot wasn't it? Good thing I didn't go for 10! 😉

Copyright secured by Digiprove © 2012 Mitch Mitchell
Posted by Mitch Mitchell on Jul 27, 2011
Almost two weeks after the movies opened in the United States, I'm finally ready to write my review. Okay, spoiler alert; I loved it so much I saw it twice!
You know, often you go into movies after you're read the book knowing exactly what's going to happen. Since they broke this book up into two movies and since the first book stayed so close to what happened in the book, I thought I would know what was coming in this one as well.
For the most part… I was wrong. Sure, some things followed the book fairly well, but one has to imagine that it must be difficult allowing the types of speeches and conversations that happened in a book that was almost 1,000 pages long to translate word for word into a movie would be, well, a headache. So, the movie takes many liberties in the movie and totally changes some things around to keep the action going; after all, they wanted the movie to be able to appeal to everyone and not just Harry Potter fans.
Even so, many of the action scenes took place differently than they do in the book, just like in the 6th book. That's okay as well because I understand for spacing purposes you'd lose a lot if you expanded the field of battle as well. However, in the book the battle between Mrs. Weasley and Bellatrix LeStrange goes on much longer than it does here, and in the book Voldemort has a long battle with many wizards at once, which doesn't happen here.
Harry's entrance into the castle goes much different in the movie than in the book, and his encounter with Professor Snape in the movie never happened in the book. And some people might recognize that Malfoy has one friend different than the same two friends he had in the first six movies. That's because the actor who played that part got arrested a couple of times for drugs and they had to replace him. Of course, one of the actors still in his role never quite developed physically into the behemoth he was supposed to be so his part always had to be written differently from the books.
And the kiss… yes, the kiss between Ron and Hermoine. Actually, this is why I had to go to the movie a second time because I missed it the first time. They moved it around in the movie and, because they didn't have it when I expected it to come, I went to the bathroom; major mistake! Glad to see it the second time around and it made sense putting it where they did once I saw it again.
In general, this was enjoyable; then again, when I know it's going to be something I like, I'm an easy grader. I saw it the first time at the midnight showing, 3D, and the second time a week and a half later in a regular theater, where the guy gave me the senior discount; maybe I shouldn't shave before I go to any movies anymore. lol The theater was packed the second time as well, and almost everyone that reviewed this movie has said it's fantastic, and it's gotten a 96% positive review from Rotten Tomatoes; those folks usually hate everything. Even Roger Ebert gave it 3 1/2 out of 4 stars; when's the last time that happened for a film that people actually saw?
I'll be waiting until both movies come out together before buying this and, as long as it is, I hope the movies include way more footage. Yeah, I'm a glutton for punishment, but I really want to see more, just as I did with the Lord of the Rings trilogy when I purchased it. Great stuff. Don't be a curmudgeon; go see this!
Copyright secured by Digiprove © 2011 Mitch Mitchell
Posted by Mitch Mitchell on May 3, 2010
This post I get to blame on my internet friend Mike CJ, who wrote a post called Why You Should Use Fictional Characters As Your Role Models. Some folks know that I patterned my life after some of the values of certain characters, while others I just like for whatever reason.
Anyway, since y'all know how I feel about commenting on Disqus blogs, and the fact that I've now been inspired to write a longer post based on what Mike came up with, here are my top 10 fictional characters, in order of favoritism; let's see you try that one Mike! And folks, no images; not in the mood to deal with copyright issues and the like. Doesn't mean I won't have product links, though. 🙂
10. Harry Potter – Some people consider this a kid's story, but how many of you would be ready to step up to the plate if you were told that you and the most evil and dangerous person in known history couldn't live together on the same planet, and one of you had to die. Take that information and put it into a 16 year old's mind and you have the makings of either the most scared kid you've ever met or the bravest kid you've ever heard of. That Harry Potter chose to be helpful and kind while having his life attacked many times a year since he turned 10 and still persevered is enough to admire, and a lesson to us all that being good or evil is a choice, not a destiny.
9. Foghorn Leghorn
– The "Big Chicken", as he's normally called by most people, was my dad's favorite Warner Brother's character, and became one of mine as well. Truthfully, he has no redeeming value; he's just funny as sin. If I told you what my college roommate and I used to do on a consistent basis based on something he always did, you'd think we should have been institutionalized.
8. Captain Kirk
– Being one of the few, apparently, who actually enjoyed the Enterprise series, one of the things lacking in the main character, who I still liked, was that he wasn't enough like Captain Kirk. He had all the attributes of a gunslinger and the brains to know that he couldn't just shoot first and ask questions later. My man crush was sealed when, in the second movie, he proclaimed "I don't believe in the no-win scenario." I always believe that we all have the ability to achieve more and better things, no matter what our current circumstances are, and I got it from Captain Kirk.
7. Superman
– I don't know what Superman means to anyone today, but back in the day, who didn't want to be Superman? He had everything you could ask for; invincibility, x-ray vision, could see through walls, fly in outer space, fly in the first place, super hearing, on and on and on. He could exhibit every superpower that every other superhero had except invisibility. And with all that power, he decided to live for "truth, justice, and the American way." Okay, it was a nice dream, but it teaches us all that with great power comes great responsibility, as well as the fact that all sorts of folks will come after you if you happen to be top dog.
6. Snoopy
– Speaking of top dogs, who in their right mind doesn't love Snoopy? Today's kids might be missing out, but Snoopy was the first Renaissance dog. He was a writer, pilot, tennis pro, hit 714 home runs the day after Hank Aaron broke the record, he can do animal impressions, do both disco and ballroom dancing, brought us Joe Cool, is a star hockey player, and sleeps outside the box, so to speak. He's a man's dog, independent and savvy, and I have a Snoopy doll, a Snoopy on my key chain, and a key with a Snoopy cartoon on it; always brings me peace. Snoopy proves if you dare to dream, you never know what you can become.
5. Bugs Bunny
– The number one Warner Brothers character of all time, more cartoons than any other character in history; that's saying something. He even has a star on the Walk of Fame. My thing about Bugs Bunny is that he wasn't the biggest most of the time, but he'd take a whipping and come back for more, eventually overcoming every obstacle thrown at him. Had a lot of talent as well. I learned from Bugs Bunny that you don't back down to bullies or any other problems in life; you come back stronger and persistently until you persevere.
4. Yoda
– If you ever needed a conscience or a boost of motivation, Yoda was the guy. Yes, he was small in stature, but he lived almost 900 years and, when needed, could turn on the juice and be a bad… (shut your mouth; this ain't about Shaft). How about these for quotes:

"[Luke:] I can't believe it.
[Yoda:] That is why you fail."
"Fear is the path to the dark side. Fear leads to anger. Anger leads to hate. Hate leads to suffering."
"No! Try not. Do, or do not. There is no try."
Yoda has wisdom and power and he's less than 3 feet tall; there are no obstacles that can't be overcome if you trust in your own self.
3. Kermit the Frog – Even though he's a frog, Kermit is "every man" and "every woman". In other words, he's a frog with a dream and a belief in that dream, and no matter what he's going to go out there and get it, no matter what form it takes. He's been a news reporter, a dancer, a singer, an author, and a TV show emcee. He's traveled the world basically just being himself. And he's the muppet that every other muppet wants to be and wants to follow. Once again, a lot of power with a lot of responsibility, yet he always does the right thing.
2. Captain Picard
– It took me probably half the first season of Next Generation to fully start appreciating Captain Picard, but once I did he was the guy I wanted to see prominent in every show. In an odd way he was the anti-Kirk; not as tall or as good looking, certainly not as athletic or brash. But he was dignified and a thinker, and not afraid to get into it when necessary. He was older than Kirk was, which meant he sent the younger first officer into the fray most of the time. But the truth is that true leadership doesn't always have to be in the forefront. True leadership helps others attain the highest level in doing what it is they have to do for the team, and sends them out knowing that they're going to ultimately do their best. He was the closest human to ever think like a Vulcan, as he was told many times; that was a pretty nice compliment in my book.
1. Mr Spock
– My favorite character of all time, the man I owe for helping me get through the last 2 1/2 years of college. I used to have a quick temper, and I think that was the one feature that kept people from getting close to me. One day I came across this thought about logic, said my anger was illogical because it wasn't aimed at anything except my own mind, and changed in an instant, based on my beliefs about Mr. Spock. Thing is, he wasn't perfect, and I certainly wasn't going to be, but I was a drastically better person, and I think the loyalty of many long time friends proved I became something much better than I was. As I'm working my way through the book The Ethics of Star Trek, I'm reminded again just how much the character of Mr. Spock has meant to my life.
Okay, I'm done, and I had fun. What are your comments, and who are your favorites, and why? And let's thank Mike for the idea.
Copyright secured by Digiprove © 2011-2015 Mitch Mitchell
Posted by Mitch Mitchell on Jan 27, 2010
I wrote my first book in 2003. I wrote my first ebook in 2008. I've had lots of people read my first book, and only got a few testimonials. I haven't had as many people read the ebook, but those that did gave me a testimonial I could use.
Well, now I feel as though I've arrived; I finally got my first real review! Our buddy Sire reviewed my ebook Using Your Website As A Marketing Tool, which is in the top spot there on the left. I really appreciate it, and I have nothing else to say except thanks to him.
You know, I've reviewed some books here and there myself, and not on this blog. Just like what I did with Sire, other people have sent me things that I've reviewed. I want to kind of return the favor that Sire's given me, so I'd like to show and link to those things I've reviewed overall, whether it was a book or not, to share some love.
First, there's a motivational movie called The Opus that was kind of a follow up to the movie The Secret, which I reviewed here.
Next, there was a book on leadership called Wisdom of the Flying Pig that was sent to me, along with a stuffed pig with wings; talk about a way to market something.
This one wasn't quite a real review, but I talked about the movie Happy Feet because I found a way it correlated with leadership principles, while also loving the movie as much as any movie I've ever seen. By the way, I'm still kind of freaked out that Brittany Murphy is deceased at such a young age, and as she was one of the primary singers in this movie, I thought I'd share this scene, which is kind of long but I think it's just great stuff:
I received another book in the mail that I read and reviewed as well, this time on credit cards. The book is called The Skinny On… Credit Cards, and I interviewed it for my finance blog.
The final thing I've reviewed like this is the Harry Potter series, which I love so much that over the past couple of weeks, for whatever reason, I keep watching all of these movies over and over. Yeah, I'm a grown man, and yet I can hardly wait for the final two movies. This isn't a kid's story at this point, and if the movies can come somewhat close to how the last book went they'll be the biggest thing this summer and next summer. By the way, I read the stupidest review of the books and series I've ever seen. One of the things the writer complained about is that the stories were "so British"; uhhh, the setting happens to be in Britain after all!
Oh yeah, I also reviewed the Risley ebook Six Figure Blueprint a few days ago as well, but I figured y'all probably remembered that one.
And there you go. Of course we all know why I'm putting a Harry Potter product at the bottom now, right? 🙂
Posted by Mitch Mitchell on Dec 22, 2007
Harry Potter is the best selling series of books in history, and made its writer, J. K. Rowlings, a billionaire; absolutely amazing.
Of course, like most adults who were open minded enough to give it a try, I got into the series the wrong way. I started with book #5, rather than from the beginning, before I had seen the first movie; don't ask me how that worked. Then I listened to book #3 and #4 before I saw the second movie, and then book #6 and, finally, book #7.
At that point I thought I was pretty knowledgeable about everything, but thought more about it and realized that there was no way I could have been, because in the last two books, there were names mentioned that I didn't know. That's disconcerting when you're going along and suddenly get thrown by stuff the series assumes you already know.
I decided to start from the beginning, the first book, and work my way back through the entire series. Instead of reading them, I decided to listen to them, since I like listening to books on tape, or CD, while I'm driving. The reader of the books on tape, or CD, is named Jim Dale, and he's a supreme reader, one of the best I've ever heard, as I listen to a lot of books on tape, as I'm on the road often.
I would recommend to anyone who really wants to see just how well these books were written, and what all the hubbub is about, should do the same thing. Yeah, the first book really is a lot of kid stuff, but after that, the books start touching upon some adult themes. You've just got to read this stuff; trust me here.
Here's the thing. Rowling has done something that I don't think anyone else has really done before. She has allowed us to not only watch these three main characters of Harry Potter, Hermione Granger and Ronald Weasley grow up over the course of each book, but she allowed all the other characters to develop as well, including the number one bad guy in the stories, Voldermort.
As she has given each character more and more depth, the stories have gotten longer, and yet, as strange as this might sound, it never seems like she's giving us too much. I hated getting through the last book because I wanted more. I know she had to close the stories at that point because Harry Potter had gotten rid of the one guy that he was tied to, and unless she could figure out a way to bring him back, anything else he did would be anticlimactic.
I have to admit that I love these stories, and I love the movies as well. I can't wait for the sixth movie to come out, and then the seventh as well. The books are very long, though; I wonder how the guys filming the movies will handle it all.

Copyright secured by Digiprove © 2011-2013 Mitch Mitchell